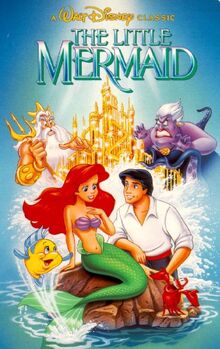 The Little Mermaid is a 1989 American animated musical fantasy film produced by Walt Disney Feature Animation and released by Walt Disney Pictures. It's the 28th Disney animated feature film.
In 2000, Disney released the sequel The Little Mermaid II: Return to the Sea.
In 2008, Disney released the prequel The Little Mermaid: Ariel's Beginning.
Movie title in...
Norwegian: Den lille havfruen
Swedish: Den lilla sjöjungfrun
Danish: Den lille havfrue
Finnish: Pieni merenneito
Icelandic: Litla hafmeyjan
Norwegian voices
Swedish voices
Danish voices
Ariel -

Marie Ingerslev

Prins Erik -

Lars Thiesgaard

Tumle -

Nikolaj Bohm

Sebastian -

Thomas Eje

Kong Triton -

Preben Neergaard

Ursula -

Kirsten Rolffes

Skralde -

Jess Ingerslev

Bundslam/Skidtslam -

Nis Bank-Mikkelsen

Louis - Karl Sundby
Laura -

Lillian Tillegreen
Additional voices
Lars Thiesgaard
Finnish voices
Icelandic voices
Ariel -

Valgerður Guðnadóttir

Eiríkur prins -

Baldur Trausti Hreinsson

Flumbri -

Grímur Helgi Gíslason

Sæfinnur -

Egill Ólafsson

Tríton konungur -

Jóhann Sigurðarson

Úrsúla -

Margrét Vilhjálmsdóttir

Skutull -

Örn Árnason

Grímur -

Baldvin Halldórsson

Fantur/Fauti -

Bragi þór Hinriksson

Louis -

Bergþór Pálsson

Karlotta -

Guðfinna Rúnarsdóttir